Events
Our annual events program at Rowlee includes celebrations of wine, food, music and more. We collaborate with local chefs, producers, artists and performers to curate a range of experiences at our estate.
Subscribe here to receive updates on events and happenings at Rowlee.
---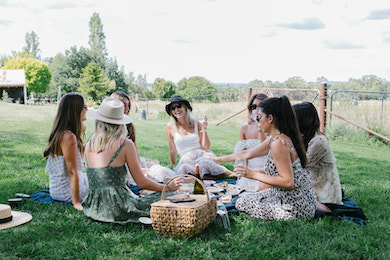 WINE & WOOD FIRED PIZZA
Saturday, 10 April 2021, 12noon – 2.30pm
Join us in the festivities of Orange F.O.O.D Week at Rowlee Wines. Enjoy a relaxing Autumn afternoon in the Wine Garden as we collaborate with Arancia Wood Fired Pizza to bring you delectable pizza complimented by our beautiful Rowlee wine.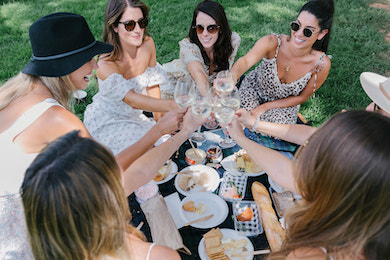 LONG LUNCH SESSIONS ON THE LAWN
Saturday 3 and Sunday 4 April, 1pm – 5pm
Join us at the estate on Saturday 3 or Sunday 4 April for our Long Lunch Sessions. Set on the grounds adjoining the Cellar Door this lazy afternoon is the ideal way to spend your long weekend. Lounge on the lawn with friends while enjoying a picnic box filled with fresh, seasonal produce, delicious Easter treats, a glass or two of Rowlee wines and relaxed tunes by Mes Entertainment.
---
Weddings
Our dedicated team can help you design a memorable celebration – from a formal wedding with a large party to a more intimate and relaxed gathering. Rowlee has the perfect space. Our romantic homestead garden, vineyard and outdoor spaces are complemented by customised marquees that come in a range of sizes and layouts. Our caterer will help you create your own wedding menu, perfectly paired with Rowlee's cool climate wines.
DOWNLOAD OUR WEDDINGS BROCHURE
---
PRIVATE PARTIES & CORPORATE FUNCTIONS
At Rowlee we create unique and exclusive events. We work with a talented team of caterers, event planners and creatives to bring your vision to life. From birthdays and anniversaries to private functions and corporate events – Rowlee's unique spaces are the perfect location for your special day or team event.
Find Out More Information
We would love to talk to you about your special day or business event. Please fill in the following form and we will respond to you within 48 hours