WINE GIFT CARD
Gift Card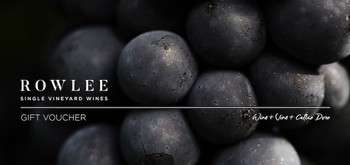 To order your gift card online now, simply choose your amount and add to cart.
If you would like your card sent directly to your recipient make sure to change the shipping address from your billing address and then add a gift message in the box provided. Let us know in the order notes wether you'd like your card emailed or posted.
Our gift cards are valid for 12 months from the date of purchase and may be redeemed by your recipient for wines at our cellar door or online wine store. To purchase a Rowlee experience as a gift please go to our Experiences page.
* Please note that Gift Vouchers are non-refundable and cannot be redeemed for cash.