Rowlee Block 2 Syrah
2019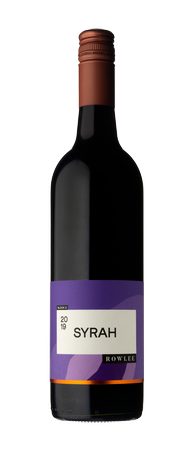 Deep ruby in colour. Beautifully ripe, red fruit aromas coalesce in a generous and wonderful regional signature. Plum, and blackberry fruit flavours occupy centre stage, while French oak influence provides further depth of flavour and supportive length.
The 2019 Block 2 Syrah is part of the Rowlee range and represents the very best varietal selections from each vintage. Sourced from mature vineyards in New South Wales, these wines offer exceptional varietal definition and a unique sense of place which contributes to the personality of each wine.
VINIFICATION
This single vineyard Syrah is grown on the Tumblong vineyard in Gundagai. The vineyard was planted in the early 90's by Penfolds, who recognised the deep, iron stone rich soils and dry, warm climate would be the perfect location for Syrah and Cabernet Sauvignon.
The fruit was harvested in February 2019 and immediately transported to the winery where it was de-stemmed to 7 tonne fermenters and cold soaked for 5 days. The fermentation took place for 7 days with pump overs twice a day. Following this, it was gently pressed off and transferred to French oak barriques and hogsheads. After 9 months of maturation the wine was blended and bottled.
Varietal composition: 100% Syrah
Ideal serving temperature: 16-18° Celcius
Cellaring potential: Drinking well in its youth or cellared for up to 10 years
Alcohol: 13.6% by volume