Rowlee Rosé
2021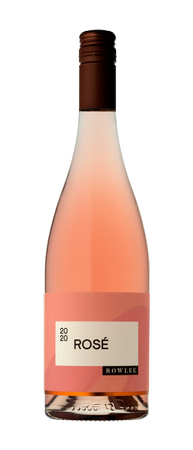 Rich yet elegant characters of strawberries and cream. Red berry flavours are beautifully enhanced by subtle spice notes. The palate has great mouthfeel that wraps around a pristine lengthy acid line. Savoury, with a mouth wateringly crisp and dry finish. A captivating wine to enjoy in its youth.
This style of rosé wine pairs beautifully with antipasto and is the perfect picnic wine.
VINTAGE
October 2020 welcomed the beginning of budburst and the 2021 vintage. Extensive work in the vineyard in the lead up to and throughout the growing season, along with abundant rainfall, saw the vines bounce back from the stress experienced during the drought conditions of 2019-2020.
While the rains were welcome, the cooler and wetter season presented its own challenges requiring long hours in the vineyard to maintain ideal vine and fruit health. Under vine mulching, application of organic fertiliser, multiple passes of leaf plucking and canopy trimming resulted in optimum fruit to leaf ratios and excellent fruit quality.
These extra hours and attention to detail were rewarded with an abundant harvest of exceptional complexity and subtleness, producing aromatic, elegant and flavourful wines.
VINIFICATION
Fruit for this wine was grown at 620 metres above sea level, ideal for cool climate syrah. Delivered to the winery in the early morning of 14 March 2021, the fruit was de-stemmed with a short period of skin contact before being pressed to tank for cool fermentation. Lightly fined and filtered prior to bottling on 29 July 2021.
Varietal composition: 100% Syrah
Ideal serving temperature: 6-8°C
Cellaring potential: This wine can be enjoyed now
Alcohol: 12.8% by volume